Young Educators Foundation
Eugenia Mawuena Adjoa Tachie-Menson is the Founder of Young Educators Foundation. Determined to succeed, Eugenia organised the first spelling competition in 2006 in Ghana with only 30 students. Today, more than 10,000 children have participated in The Spelling Bee and other learning programs through her non-profit organisation, Young Educators Foundation (YEF).
We were delighted to interview Eugenia as we highlight innovators and educators and celebrate why #EducationMatters to our customers in Ghana and beyond.
Can you tell us about what led you to launch Young Educators Foundation?
I founded Young Educators Foundations 9 years ago after I noticed that many Ghanaian children weren't regularly reading. One day, for example, I got into an argument with my 6-year-old niece, who insisted that Cinderella was a movie not a book. In contrast, I grew up without a TV and at a young age I could always hold conversations with people twice my age because I was well-read.
While studying in the UK, I became interested in spelling bee competitions and wanted to create something similar in Ghana. Not long after, I started Young Educators Foundation to promote children's literacy as literacy rates are in the single digits in Ghana. She wanted to make literacy engaging – wanted to make a fun way of learning English (after school programs complementing what's happening in school)
How did you grow the program from 30 students to 10,000 students?
In 2008, the film Akeelah and the Bee debuted, and it was very popular among children which helped fuel interest in The Spelling Bee. But the impact of the programme on children's overall work and life is what really kept children and parents coming back. In Ghanaian culture, children don't usually question adults, but in the programmes children lead the questioning. We aim to make the average young person a bit more knowledgeable and confident than they were before.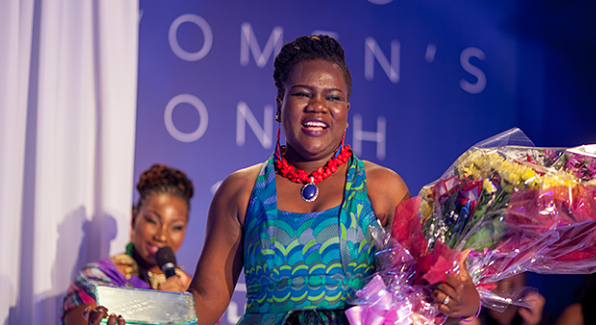 What do you see as the biggest challenges around education that Ghana faces?
As a mother of a young child currently in school, I have firsthand experience of the challenges in the Ghanaian educational system today. Our teachers are overburned, overstressed, and sometimes underpaid which means that for many, teaching is a job not a vocation they follow due to their passion. When you're taught in this way, it should come as no surprise that children tend to learn in a mechanical manner – they can answer questions from the syllabus but struggle with real life problem-solving and creative thinking. We need to develop a more engaging curriculum and instruction style that is geared towards preparing our students not only for life in Ghana, but life in the globalised world.
Who should we look to solve the challenges of education in Ghana? How can the diaspora help?
Ghanaian parents can play an enormous role if they are hands-on. Get involved in your PTA so you can influence the educational programmes the school follows. You can't rely on development agencies – we need homegrown solutions.
The best thing that our diaspora can do is share their skills and knowledge by coming back home to set up programmes using knowledge they acquired from abroad while recognising local nuances and the knowledge that exists here.